Showroom
Spacious, modern and versatile – the new Meinl Showroom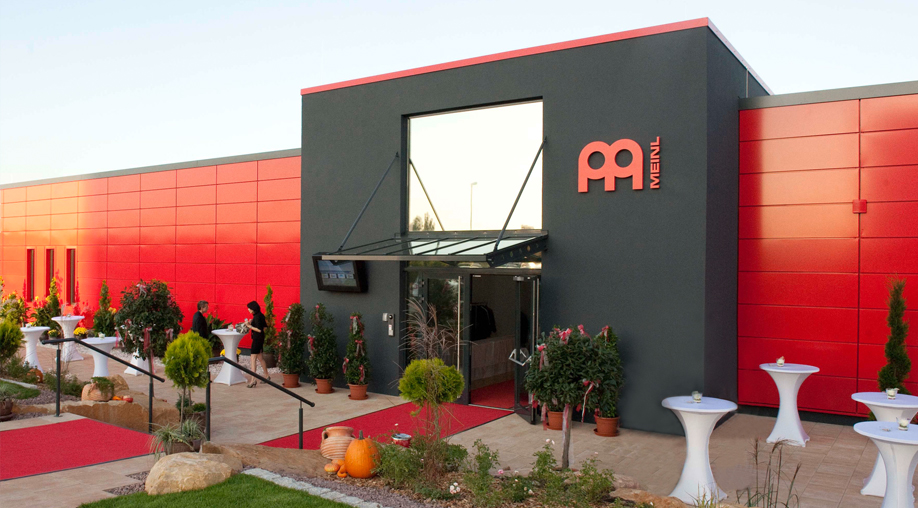 Closed for renovation work up to and including June 14, 2022.
Showroom information:
800 air-conditioned square metres of exclusivity and versatility are a joy to behold for any musician in the Middle Franconian town of Gutenstetten.

Roland Meinl Musikinstrumente started the construction work on a new exhibition and multipurpose hall in April 2011. The building was opened only five months later, during the "60 years of Meinl" celebrations. In addition to further storage space, an ultra-modern showroom covering 800 m² was created in Gutenstetten. Air-conditioned and equipped with automatic air humidity control, it provides the ideal climate for all instruments.

Both the own brands Meinl Cymbals, Meinl Percussion, Nino Percussion, Sonic Energy, Stick and Brush, Viva Rhythm and Ortega and also the sales brands Ibanez, Hardcase and Tama, all have their own exclusive show space which has been designed with great attention to detail.

In addition to numerous cymbals, drums and percussion instruments, many Ibanez guitars are displayed for testing. In the new testing room, the amplifier can be really turned up loud without disturbing other visitors.

In honour of the company's 60th anniversary, 10 wall panels provide everything you need to know about the company's founder Roland Meinl and the success story of "Roland Meinl Musikinstrumente".

Anyone wishing to experience the Franconian musicians paradise live has the opportunity to do so from Mondays to Fridays from 8 a.m. to 5 p.m.
In order for our qualified staff to be fully available, we ask for a telephone appointment under 09161-788-0.

Further information on our showroom, special offers and products may be found at meinldistribution.eu.


Roland Meinl Musikinstrumente GmbH & Co. KG
Musik-Meinl-Straße 2
91468 Gutenstetten

Opening hours:
Monday to Friday, 8 a.m. – 5 p.m.